Alternative Routes
Starting from the southern Baltic Sea (Bornholm), there are two alternatives one can consider to reach the islands of Swedish Lapland, please see below for more details.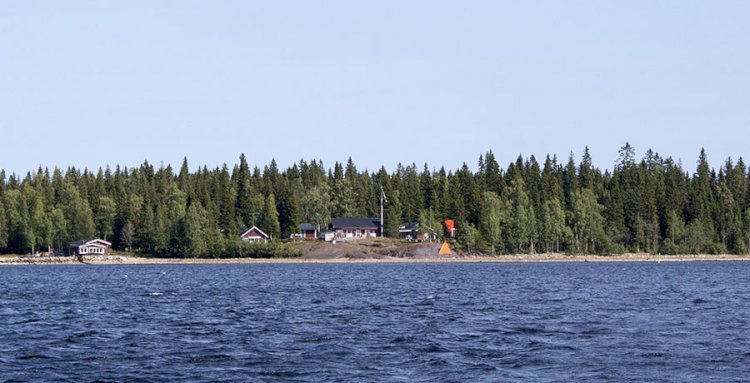 Alternative A
Travel close to the coast, mostly in sheltered water with a large number of natural harbours and guest harbours to choose from. You pass many very beautiful islands on the way, and it is possible to avoid open sea.
The inshore route Bornholm - Luleå has a total distance of approx. 750 M. For sailing near to the coast we recommend the Swedish yachting charts ("båtsportkort" in Swedish), series F, C, A, H which cover all nautical chart requirements along the coastline Karlskrona - Hudiksvall.
When north of Hudiksvall, standard island charts ("skärgårdskort" in Swedish) are used, 411- 415, 421-422, 511- 514, 522-525, 532 and 533. This is the best and cheapest alternative. The charts will cost around 500 euro in total.
Alternative B
The shortest route Bornholm - Luleå by open sea has a total distance of approx. 660 M. The route passes close by some settlements large enough to provide provisions and rest.
For the journey on open sea, the Swedish small-scale charts ("översiktskort" in Swedish) numbers 8, 7, 5, and 4 can be used. Once the islands of Luleå are reached, the Swedish island charts 411, 412, 413, 414, 415 can be used. The charts will cost around 200 euro in total.
Digital nautical charts
Digital nautical charts of various makes are available for the entire area. The Swedish Maritime Administration ("Sjöfartsverket") produced a CD called "Det levande sjökortet" ("The Living Nautical Chart") during the spring of 2003, with all the nautical charts in raster format for the route Åhus - Öregrund along with additional information about harbours and service. Price around 150 euro. The CD contains a simple navigation program but cannot be used in other programs on the market.
Special nautical charts
For certain important parts of the islands of Luleå there are Special nautical charts ("specialsjökort" in Swedish); "Båtleder i Luleå skärgård" ("Boat waterways for the islands of Luleå") 1 and 2.
Overall planning
For sailing according to alternative A
For alternative A you are mostly travelling inshore in sheltered water and you have possibilities to put to at night, either in natural harbours or in guest harbours with service.
A certain amount of planning may be required when it comes to fuel supplies, because refuelling stations can be relatively sparse outside of the high season (June - July). There is good access to food stores and other services along the entire coast. In the Guest Harbour Guides you will find information about refuelling stations and stores.
Certain parts of the journey along the coast are very beautiful and well worth seeing. If sailing by day along the coast, we recommend overnight stops at the islands of Misterhult north of Oskarshamn, Gryt or St. Anna north of Västervik, the islands north of Oxelösund, Stockholm's islands, both south and north, and the islands south of Öregrund.
After that we recommend an over-sea sailing directly to Höga Kusten/Ulvöarna south of Örnsköldsvik. A more sheltered route is to follow the coast, with alternative overnight stops in natural harbours or guest harbours, such as Storjungfrun, Agön/Hornslandet, Brämön.
From Ulvöarna and north the journey follows the coast and can be divided up into 2-3 daily stages. The guest harbours Järnäsklubb, Holmön/Byviken, Ratan, Bjuröklubb can be recommended for overnight stops along this stretch of the journey. The guest harbours along the Swedish coast north of Sundsvall are often small fishing harbours with limited space, although they make up for a lack of space with a lot of genuine character.
For sailing according to alternative B
For alternative B, sailing on open sea all the way directly to Luleå, there are possibilities to put to at Visby for fuel/provisions and sightseeing. Visby, with its renowned medieval history, is well worth a visit.
The next possibility for land contact is Arholma, a small island among the northern islands of Stockholm that is able to offer fuel, provisions and certain service. The island itself is well worth seeing.
On Åland you can put to at Storby for fuel and provisions. After that it is around 200 M to Vaasa in Finland or Umeå on the Swedish side, where you can put to and stock up on fuel and provisions.