Renskär/Getskär, Kalix (North)
On the south-eastern part of Getskär/Renskär there is a small and genuine fishing village that dates from the end of the 18th century. The bay is sheltered from all winds except for south-easterly winds. It was herring fisherman from several of the coastal communities who erected the first cabins out here in the islands.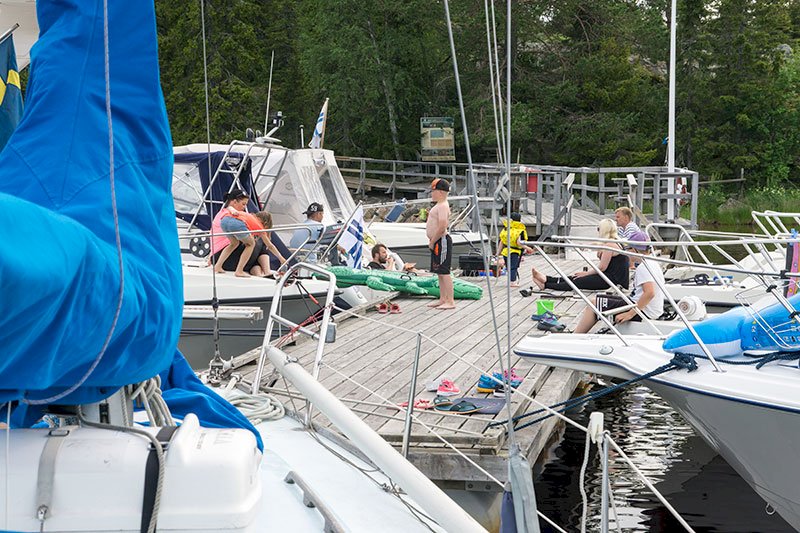 Facts
Nautical chart 412
Excursion harbour/ nature reserve
Facilities adapted for disabled persons
Harbour depth: 3 m
No. of guest berths: 15
Outhouse toilet, barbeque area, sauna, walking track, attractions.
Description of the approach along with references to the nautical chart
You reach this lagoon from the large waterway when you come from the south or from the east. When you are at the Getskär Rock's bar you should turn to starboard or to port, depending on the direction from which you are coming. The entrance to the lagoon lies about 0.4M from the waterway. When making your approach, stay about 10 m away from the pebble beach on the south shore. The southern part of the bay consists of a nice sandy beach where you can go for a refreshing swim. The harbour in Getskär Bay provides good shelter from all winds apart from strong easterlies. If a strong easterly wind is blowing, anchoring is recommended in the northern part of the bay, which also has good water depth. Here in Getskär Bay a new stone pier has been erected with a ship jetty and a 21 metre long floating jetty, as well as a boarded walkway down to the beach which is suitable for use by disabled persons. Other conveniences include an outhouse toilet, barbeque areas with chairs, wood, walking tracks and a sauna.
Getskär/Renskär is part of Likskär's nature reserve. From the sandy beach it is recommended to take a walk along the trail to the fishing village on the southern side of the island, where you will also have an opportunity to try out an old labyrinth. You can also continue to follow the walking track, which turns off to the right along the rocky ridge before you get to the fishing village. This track will then lead you around Getskär/Renskär and you will be able to experience spellbinding and varied scenery. The track is marked out with red markers on the trees.