Kurjoviken, Skellefteå (South)
Here you must use nautical chart 4211 for navigation purposes. The harbour is located in Kurjoviken.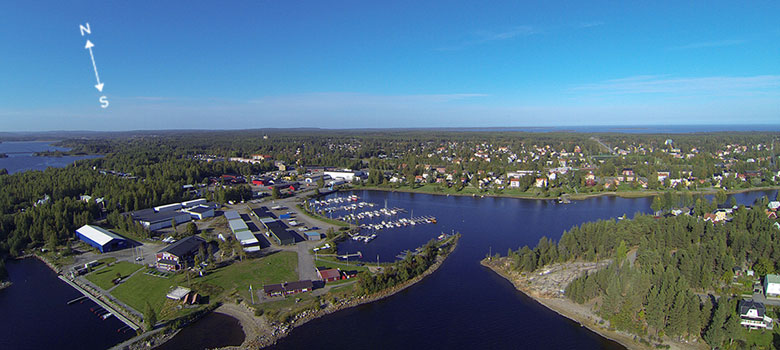 Approach the harbour by following the marked waterway along the Skellefteå River until you have passed Kallbrännan cairn. Now proceed on course 015o to come straight into the entrance to the harbour. You will see lit leading light markers as well as buoys in the harbour entrance. The guest berths are located at the ends of the jetties, and any available berths in the harbour can also be used. These berths are indicated by the harbour manager if there are any such berths available at any given time.
Facts
Service harbour
Nautical chart 421 (4211)
Harbour depth: 2-3 m
No. of guest berths: 10
WC, sauna, refuse bin, latrine emptying, laundry, kitchen, sea station and water

Skellefteå River
If you wish to continue your journey up the Skellefteå River, it is possible for relatively large boats to sail up to the Bergsbyn dam, but after that the ability to go further is restricted by the size of the lock. The vertical clearance under the bridges is 3.5 metres. Detailed information about the waterway is included in the folder entitled "Båtled Skellefteälven" ("The Skellefteå River Waterway") which is available at the tourist centre. Here you need to navigate according to the markings in the nautical chart.