Stensborg, Luleå (Central)
A popular location to visit for people living near Luleå. Stensborg is located around 1,7 nautical miles from Södra hamn and is visited frequently during the summer.
Guest harbor on Stensborg
Mooring of boat:
Depth of the harbor: 10 m
Number of docks: 15 guest docks
Harbor service: Barbeque, toilet, cultural heritage
Dock fee: 100 Swedish crowns (SEK) per night.
Other: Storage for barbeque wood,
GPS-coordinates (lat, lon): 65.557847, 22.158426
The harbor is deep and has capacity for around 15 boats. On the island there are several barbeque areas. If you want to set up a tent you can do so on the northern side of the island with a beautiful view of the city. There are nice flat surfaces to set up a tent, close to toilets, barbeque areas and wood storage for the barbeque.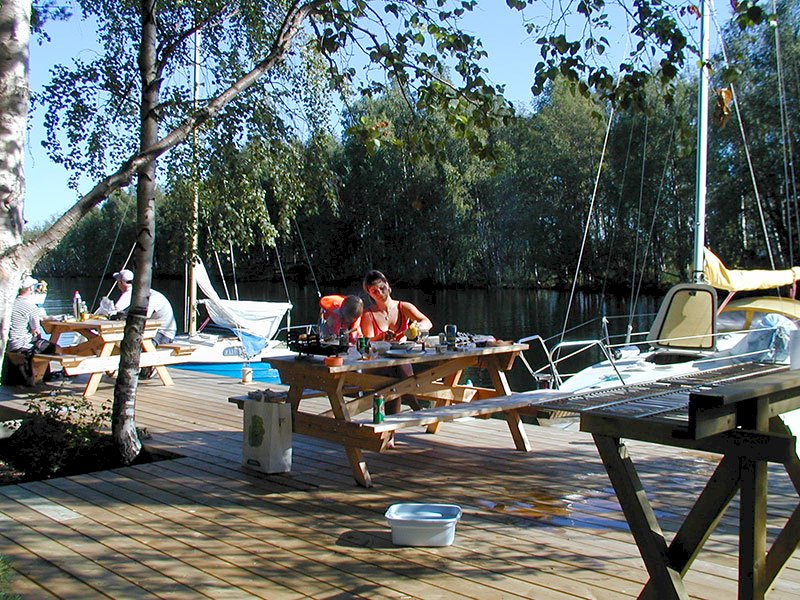 This site contributed to the building of a sawmill in the end of the 19th century.
At Stensborg you can today find remnants from the sawmill that was active up until the 1920s. Around 70 workers worked on mainly producing timber for herring barrels that were exported to Norway. The timber came through via the log-driving on the river through Luleå (Luleå älv).
On Saturday the 30th of September 2014, Luleå woke up to a sunny late summer day. The sun was shining from a blue sky and the temperature rose to almost 20 degrees Celsius. The bay was still and was appealing for a boat trip. But where can you go with only a few hours of free time? The answer is Stensborg, a close excursion destination, 1.5 nautical miles from Ettans boat harbor. Stensborg is today a lush excursion point with multiple beautiful bays to anchor your boat. Along the long and deep bay there are multiple nice barbeque areas and toilets that the county of Luleå has arranged.
Rent our sauna raft in Stensborg!
Along the inner side of the bay of Stensborg there is a fleeting sauna raft that is much more than just a sauna. On board the 80 square meter raft you and your company can enjoy a true sauna that burns firewood, or just enjoy the scenery and eat a good meal. The big cabin on the fleet is big enough to fit and serve dinner for 20 people. And it has good heat for cold days.