Svinöra, Piteå (South)
A true treasure among the islands of Piteå is Svinöra, the Piteå Boat Club's home harbour.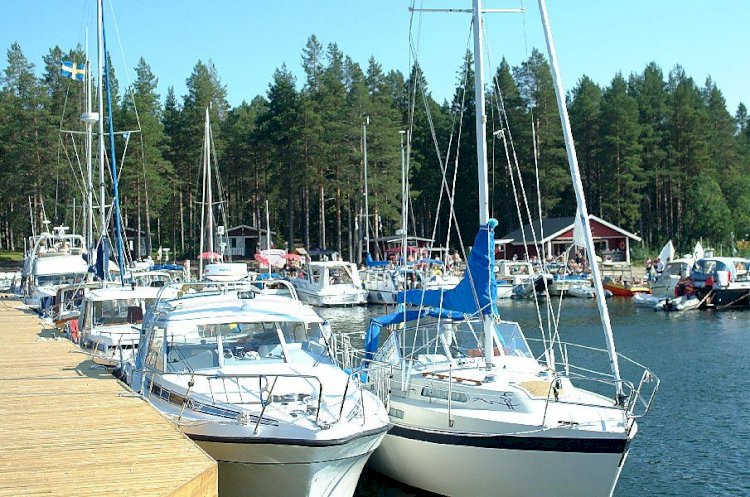 Svinöra i Piteå skärgård, Foto: Markus Vallin
The club, established in 1922 and with more than 1,200 members, is the largest club in the Bay of Bothnia Boat Association.
Facts
Guest harbour/ Piteå Boat Club
Nautical chart 415
Harbour depth: 1.8 m
No. of guest berths: 80
Facilities adapted for disabled persons, sauna, barbecue cabins, outhouse toilet, barbeque area, water, store and electricity.
If you are sailing along the large waterway on the way in to Piteå North Marina, you pass Svinöra on the port side. At position 65o 20´,10N 21o 39´,70E you should turn to port and proceed on course 219o until you come to the power line. Now you will see the boat club's harbour facility on the port side. Mooring occurs with anchor or alongside. The harbour is managed by Piteå Boat Club.
Svinöra is a harbour that offers shelter from all winds. During the summer season, there is a weekend host here to take care of the guests. It is possible to borrow various types of dinghies, canoes and windsurfers.
On the beach there are a number of barbeque areas with seats. Up on the island, behind the small cabins, there is a good camping site suitable for tenting.
The channel between little and big Svinöra is a good place to anchor, and it is sheltered from most winds. The bay has a sand bottom and the area around the sandbank, which stretches between the islets, is ideal for swimming.
If anchoring nearby the clubhouse you should be aware of the electricity cables that run between Svinöra and Renöhamn.
A number of activities are arranged on Svinöra during the season, both for the club's members as well as for the general public. A wok party with dance, potluck dinner with crayfish, potluck dinner with "surströmming" (soured herring), and the Bay of Bothnia's sea sports meet are some events that are held on a recurring basis every year.