Bureå, Skellefteå (South)
When you are at the northern marker at Tällögrundet, set your course for 275,5o. Proceed for approx. 2.7 M. You are now at the guest harbour, which you see on the port side. The approach is indicated by leading lines.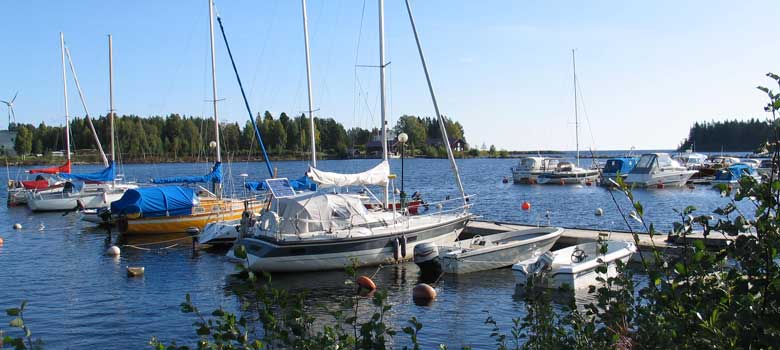 A modern harbour facility under the management of the Bureå Boating Association, the harbour has 20 guest berths with electricity, service building with laundry, sauna and fresh water, latrine emptying and a recycling station. The harbour depth is 2 m. Taube Day with troubadour music is arranged on the last Saturday in July at the clubhouse, while other items of interest include a playground, cycles for rent, sport fishing around the "Geten" area, local museum with cafeteria 2 km, swimming baths with gym and solarium, business centre 2 km, sea bathing 2.5 km, mini golf 3 km.
Facts
Nautical chart 421
Harbour depth: 2 m
No. of guest berths: 20
Electricity, laundry, sauna, water, latrine emptying and recycling station
History
Once upon a time, ships from all over the world were loaded with timber or pulp from the local company Bure AB. These days it is leisure boats that make their way out from the well organised marina. Boaters enjoy their time in Bureå, an ideal starting point for trips to other destinations such as, for example, Burehällarna, Burviksfjärden or the incredibly scenic Skötgrönnan. Even a "land crab" can enjoy the goings on at the jetties, the sound of water lapping against the wooden hulls, and the smell of the ocean. Professional fisherman Lasse Larsson has his berth at the harbour's outlet – make sure to ask him if he has any fresh salmon for sale!